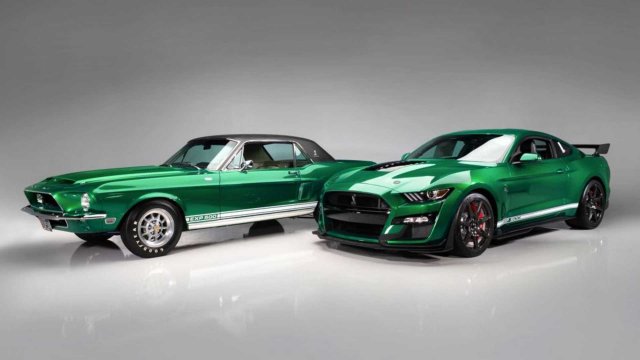 Ford Motor Company recently presented Carolyn and Craig Jackson, chairman and CEO of Barrett-Jackson, with the first production 2020 Mustang Shelby GT500, which rolled off the lines at Flat Rock Assembly Plant in Detroit, Michigan. The Jacksons purchased the VIN 001 GT500 during the 2019 Barrett-Jackson Scottsdale Auction, raising $1.1 million for JDRF. This remarkable Ford Mustang will join other rare Shelby vehicles including the 1968 GT500 prototype known as "Green Hornet" and its predecessor, the 1967 Shelby Mustang prototype known as "Little Red," for an exclusive display at the 2020 Scottsdale Auction.
"This first production 2020 Mustang Shelby GT500 is a significant piece of American performance history," said Craig Jackson. "The independent rear suspension, four-wheel disc brakes and electronic fuel injection engineered on this car were pioneered by Carroll Shelby over 50 years ago. He tested and developed these same experimental components on his 1968 EXP500 prototype, Green Hornet, but they were not standard in a GT500 until 2020. It's an incredible honor for Carolyn and me to be entrusted with these important vehicles and to have supported efforts to find a cure for juvenile diabetes."
As the winning bidder, Jackson was afforded the opportunity to match the exterior paint of his 2020 Mustang Shelby GT500 with the Green Hornet's Candy Apple Green metallic color. Both experimental Shelby Mustangs, Little Red and Green Hornet, will be displayed at the Scottsdale Auction in January as well as in an upcoming documentary film being produced by Jackson. The film, which will be released in 2020, chronicles the stories behind the search, discovery, research and restoration efforts with a team of experts over the last decade for both Shelbys.
https://www.yahoo.com/autos/first-production-2020-gt500-other-184115760.html